About Us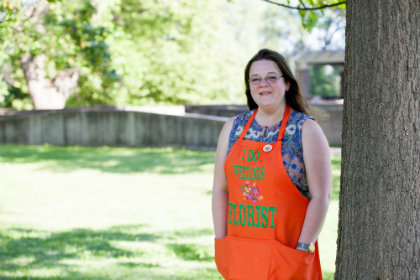 I am a freelance and event designer. Everything is made to order the day of delivery, and is unique to your order. I am a big believer in making pieces to the customer/recipient, so if there is something you want and don't see, please call or message me.
I specialize in all events, from weddings and funerals, to holiday parties and barbeques. Everything I make, I deliver and place. In home consultations are common practice. Let me make your floral needs as easy as I can.
History
Established in 2010.
The floral industry has changed from when I first entered it. It went from artisans to mass producers, with little to no customer service. I was trained directly opposite. Each piece was unique to the customer and service was automatically included, so that became my business plan.
April Spencer
Hello! My name is April, and I truly want nothing more than to create your perfect wedding floral dreams, at the budget you can afford with the service you deserve. Weddings and events are hectic times and it's my pleasure to take the floral worry away. I was mentored in the old school floristry philosophy; well crafted designs with wonderful, personal service.
Every piece is individually made with you and the recipient in mind.
Certified LGBTQ Ally
Request a Quote
Have an upcoming event? We can design something beautiful for you.
Contact us today!